On February 22, 2023, the presentation of the latest book by Assistant professor Martin Dimitrov – "Japan in the Second World War", was held at Sofia University's Center for Eastern Languages and Cultures. The book is the newest addition to the series "The History of Wars" of Publishing House "Millenium".
The publications is the first on the Bulgarian market by a Bulgarian author, to explore the events of Japan's participation in the bloodiest conflict in human history. It is also the first time a staff member of our Department dedicates a monograph on this topic. The book examines the events of Japan's history in the third and fourth decades of the 20th century with special emphasis on the internal political situation, the trends of economic development and Japan's actions on the international stage. Besides following the armed conflicts, in which Japan was engaged in the said period, the study also broaches questions such as the history of Japanese military involvement on the continent since earliest times, the achievements of its military industry, the memory of the war in post-war Japan, and the mark the conflict has left on the wider region of East Asia.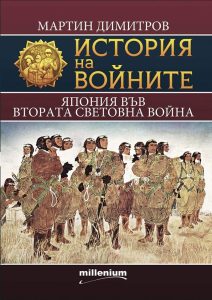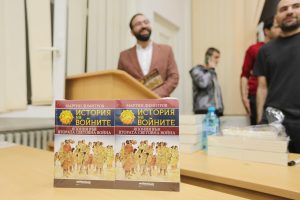 The presentation of the book sparked wide interest and was attended by many scholars, students and members of the general public, interested in Japan's history and culture.
During the event, a long-time lecturer of our Department – prof. Nako Stefanov, gave a speech praising the study. He opined that it was by no means inferior to similar ones, published by English-speaking, Russian and other writers. The book was also praised by Associate professor Alexander Sivilov – head of the Modern and Contemporary History Department of Sofia University's Faculty of History. According to him, one of the chief advantages of the publication was its concentrated and fluid style, which at the same time maintained high academic standards. The author – dr. Martin Dimitrov, expressed his gratitude to all attendees, his colleagues from the Japanese Studies Department, and to all students, without who, he said, the job of a lecturer and researcher would be meaningless. At the end, he answered questions from the public and signed copies of his book.